Annapurna Base Camp trek is an exciting and adventurous trek, doable all around the year. The trekking seasons for trekking the Annapurna Base Camp is spring (March to May) and autumn (September to November). During these months the Annapurna region is full of travelers. The passionate trekkers gather from all around to trek the Nepalese Himalayas.
As September marks the beginning of Autumn, the trekking season also starts in the Nepalese Himalayas. Annapurna Base Camp trek in September is the best time for trekking. You can witness some of the scenic views of the Annapurna Himalayan ranges such as Mt Annapurna (8,091 m), Annapurna south (7,219 m), Mt Manaslu (8,156 m), Mt Machhapuchhre (6,993 m) and many other surrounding peaks without any distractions of clouds and rain.
The monsoon rain clears the dust and dirt from the Annapurna region so, you'll experience the beautifully lush and green vegetation that the trekking routes have to offer. The rivers, waterfalls, lakes, and gorges are at their fullest during the month of September. In early September you might experience some rainfall so, don't forget to carry rainproof gear and warm clothes with you as the night gets very cold.
The Annapurna Base Camp Trek is not only about the beautiful sceneries but also about exploring the unique and diverse culture, tradition and lifestyle of people living in the area. You'll find kind, friendly and respectful people with great service and hospitality. Generally, Tamang and Gurungs people dominate the area but you can also find ethnics groups of people.
You'll get to meet them while you trek through their settlements. To win the heart of the travelers, the people living in the area provides you with great hospitality. They perform folk dances and songs for you to make your journey more mesmerizing and enjoyable.
Within 12-14 days of your trekking journey, you're provided with an adventurous and unforgettable experience. Annapurna Base Camp trek in September is something that the trekkers want to be familiar with.
Highlights of Annapurna Base Camp trek in September
Breathtaking views of Annapurna mountain range and other snow-covered peaks.
Experience the diversity of two seasons in a single trek.
Explore and visit the religious monasteries.
Witness the wildlife and natural beauties as the Annapurna Base Camp trek has to offer, especially in September because the monsoon has just passed and the lakes, waterfalls, rivers, gorge, mountains, and landscapes are at their full glory.
Explore the culture, tradition, and lifestyle of Tamang and Gurung society as you walk through the path.
Trek through Annapurna Conservation Area and Annapurna Base Camp itself.
A mesmerizing view of the sunrise from Poonhill.
Witness the Annapurna Massif up close.
Trek through the lush rhododendron and oaks forest.
Make your trekking journey more peaceful and comfortable due to less crowded trails.
Annapurna Base Camp weather in September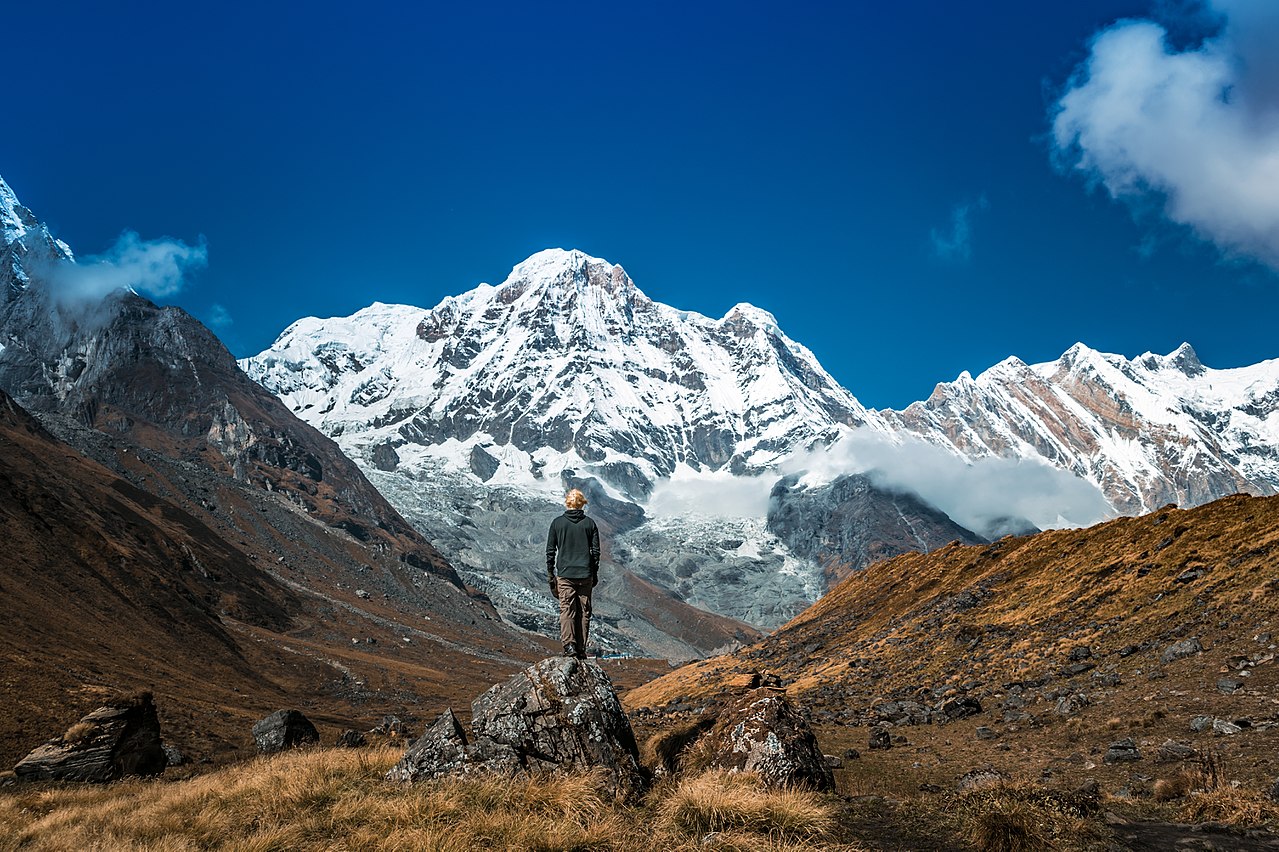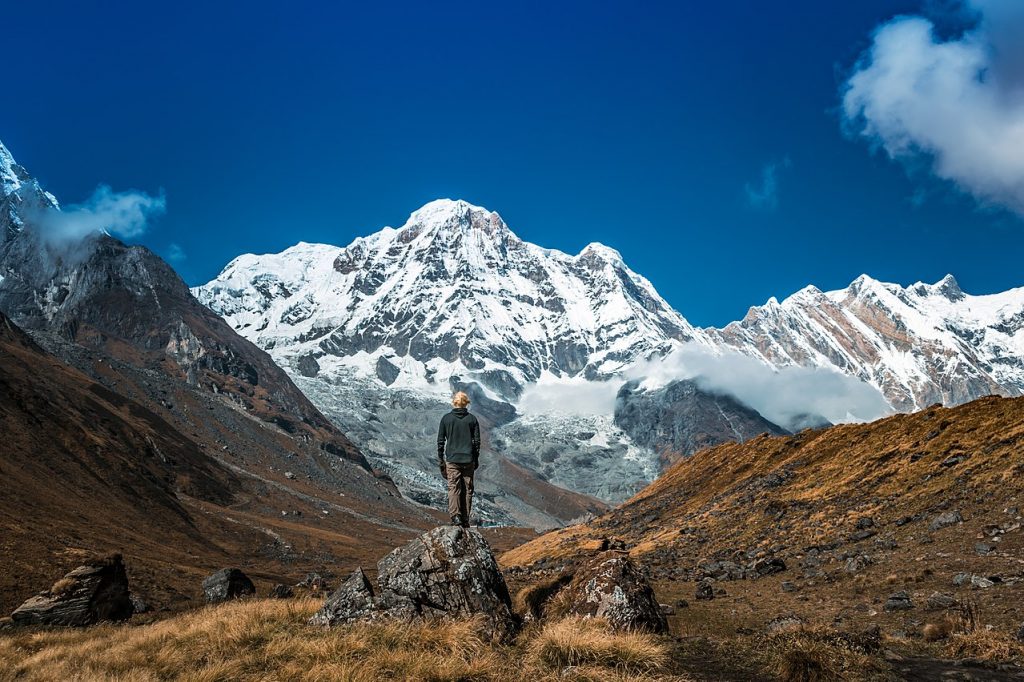 The weather in the Annapurna region consists of two parts in September. In early September, you may experience the pre-monsoon rain slightly for two weeks. But when September month is about to reach its end the weather is perfect and stable. You are able to apply for Annapurna Base Camp Trek in both the weather conditions in September. Due to these reasons, September is the best time to trek Annapurna Base Camp.
Post-Monsoon Weather
September is the month between monsoon and autumn. You might experience some rainfalls in the afternoon and nights in early September. The trekking path might get wet but the trails won't be tough and slippery. If you decide to trek in early September, then you need to carry lightweight waterproof gears for Annapurna Base Camp Trek.
Stable Weather
The late September weather is the most suitable and popular time for trekking. The weather is calm and perfect for trekking at the time. The atmosphere and surroundings are perfect. Annapurna Base Camp Trek offers some of the beautiful views of the great Himalayan range, landscapes and many more in this weather.
Pre-Winter Weather
At the Annapurna Base Camp Trek, September is also the beginning of pre-winter weather. The day time temperature is mild and warm but the nights are cold. As you ascend higher the nights become colder so make sure you carry warm gears for the trek. Since the month of October gets near the number of travelers also increases.
Annapurna Base Camp temperature in September
There is a huge difference between temperature in days and nights at Annapurna Base Camp Trek. The daytime is mild and warm, however, at night the temperature is colder. As September progresses, the temperature at night during late September is much colder than early September.
At day time the temperature in September is around 8-15 degrees and at nights the temperature is below freezing point -0 degree. It is very cold at night so, carry warm gear with you for the night.
Benefits of Annapurna Base Camp trek in September
Annapurna Base Camp Trek is a beautiful trek for the people who love traveling and trekking. Annapurna Base Camp Trek in September has its own pros and cons.
Stable weather with a mild temperature
September arrives after the monsoon and is the beginning of autumn. During the days, the temperature remains mild and lovely. However, the temperature gradually decreases as you ascend higher. You don't have to worry about carrying bulky trekking gear for cold and rain.
The forest, hills, and grasslands are greener and clean because the monsoon clears the dust and dirt of the atmosphere. The skies are beautiful and clear and you can witness the picturesque views of Himalayan ranges and snow-capped mountains.
Fewer Crowds Trails
September is a good time if you want to escape heavy crowds and traffic on the trail. During early September, there will be fewer travelers on the trail of Annapurna Base Camp.
September is a less popular month to travel than other months in the autumn season. The region is still affected by monsoon and can rain sometimes. But if you love to travel freely and peacefully then trekking in September is the month.
Clear And Beautiful Views
The whole atmosphere is clean and clear from dust and dirt because of the monsoon season. You'll see the snow-covered peaks up close without any distraction. Due to the clear skies and sunny weather, you'll feel like the mountains are very close to you. You'll also witness the scenic views of the sunrise from Poonhill.
The vegetation around the trail is lively, dense and greener due to the monsoon rain. The green forest looks dense with buds and shrubs blooming beautifully. The feeling of walking through these lush and green forests is amazing. You can see the herd of yaks grazing over the green pastures while you walk through the trails.
Easy Accommodation
Due to the fewer number of travelers, the trail for the Annapurna Base Camp is barely populated in the month of September so, you can get a wide range of accommodation. The availability and costs of the rooms are not so expensive.
Unlike other popular months for trekking, you won't face difficulties with accommodation and food. The popular months for trekking starts from October to November so, it is difficult to get rooms and proper accommodation facilities.
Less chance of flight cancellations and delays
There won't be any problems with flight cancellation and delays because the weather in September remains stable. You can complete the Annapurna Base Camp trek in September successfully, due to the stable weather and climate condition.
Hassel during Annapurna Base Camp trek in September
Trails Itself
Annapurna is one of the highest mountains in the world, so trekking through the Annapurna Base Camp's trail is not going to be an easy task. The trail routes are not well developed. There are lots of ups and downs that you have to do because of the rocky hills and Annapurna being highly remote. In early September the trails may get wet and rugged so it might be slippery and hard to walk on.
Altitude
The elevation of the Annapurna Base Camp is 4,130 meters. So, as you reach higher and higher the oxygen gets thinner and gradually decreases. It might be hard to breathe and may cause altitude sickness.
As you ascend higher, the temperature also drops down slowly. So, it becomes very cold, especially at night and the base camp itself. Be equipped with warm gears and prepared for the altitude sickness.
Finding Accommodation in late September
The perfect time for trekking Annapurna Base Camp starts from mid-September. People from all around the world come to the Annapurna region for trekking. Annapurna trek routes being very constant, you might face difficulty finding a place to stay because the tea houses and guest's houses will be full of travelers and the accommodation in the area is very limited.
Few articles you may like:
Tips for Annapurna Base Camp trek in September
Starting early for the trek
During early September, there is a high chance of rain but the rain only occurs in the evening and late afternoons. So, starting early is the best thing to do if you don't want to get stuck on rain and slippery trails. Also in the morning, you can witness some of the scenic views of Himalayan ranges and snow-capped peaks. The clouds block the beautiful views if it rains at noon.
Wearing proper gear for the trek
You should be wearing the right gear for the trek in order to go through all the challenges that the Annapurna Base Camp trek has to offer. You'll be facing lots of challenges during this trek. Altitude sickness, the sudden change in weather and temperature, rainfalls and many more. Make sure the gears are lightweight and accessible.
Staying Hydrated
Staying hydrated is the key to completing your trek successfully. Your body dehydrates fast and can cause difficulties during the trek. Drinking water time and again can prevent you from dehydrating at high altitude. Staying hydrated prevents the risk of altitude sickness, headache, dizziness and many more. Be sure to drink plenty of water from time to time and take small breaks during the trek.
Anti-leech products
Due to the previous monsoon season, you may find some leeches while you're trekking on the lower altitude because you'll be walking through many lush forests and vegetation. So, carrying a pair or two of leech socks, insect repellent products, and tablet salt will come in handy. As you gradually ascend higher the number of leeches starts decreasing.
Accommodation
On your way to Annapurna Base Camp, you'll find lots of teahouses as it is a popular teahouse trek.
In the month of September, the rooms are available easily because it is not flooded by travelers. You can find both average and standard teahouses easily during your trek but don't expect high facilities because the teahouses provide you with basic service.
They provide you with two beds in a single room. However, in early September you might get a single room. September is also the best month to trek if you enjoy camping.
Starting from late September the tea house's rooms are slightly packed. The Annapurna region is full of travelers until November and the accommodation facilities can be unavailable. So, Annapurna Base Camp trek in September is the best time for trekking.
Food And Drinks
There are lots of food facilities in the Annapurna region. The variety of international cuisine and menus will surprise you. But as you ascend higher towards Annapurna Base Camp, the option for food decreases.
You'll be eating local and typical Nepali food such as Dal Bhat, Momo, beans, pancakes, Dhindo, and many more. These foods will be available in the higher areas with lots of other options. Thus, with good taste and packed with energy and protein as your body needs during the trek.
Drinking water and keeping yourself hydrated is very important while you are trekking. You're provided with water everywhere while you trekking. You should drink about 5 liters of water every day to stay hydrated. We advise you to limit your alcohol consumption because it might be difficult for you during the trek.
Trekking through Annapurna Base Camp's trail is remote and rugged. So, to provide food and drinking facilities available, the locals living in the area build small tended stalls at different places on the trekking path. So, if you want snacks, tea, water, and food you can buy from them. The food may not be as good as the tea houses but they are average. The food and drinking facilities may also increase as you ascend higher.
Fees and Permits for Annapurna Base Camp Trek in September
If you are trekking for Annapurna Base Camp, then every traveler needs two types of permits.
TIMS
Trekking Information Management System (TIMS) is the most important permit for every trekker to trek Nepal's Himalayas. Nepal Tourism Board and Trekking Agencies Association of Nepal has implemented the trekkers to carry one of these for their safety and security.
Permit fees for SAARC nationals: NRP 600 Rs / about US $6
Permit fees for other nationals: NRP 2000 Rs / about US $20
ACAP
Annapurna Conservation Area Entry Permit (ACAP) is the second one.
Permit for SAARC nationals: NRP 200 Rs / about US $2
Permit for other nationals: NRP 2000 Rs / about US $20
Note: 13% VAT (Value Added Tax) is not included in these prices and permit is not required for the individual below 10.
Packing list for Annapurna Base Camp Trek in September
Annapurna Base Camp Trek in September doesn't require bulky packing and heavy clothing. Small rainproof gears and warm lightweight gears will do the job.
Rainproof pants and jackets for early September.
Windproof pants and jackets.
Hiking shorts.
Undergarments
UV protective sunglasses.
Sun protection hats to avoid sunburn.
Sunscreen lotions and cream to avoid sunburn on your face and body.
Pair of good and comfortable hiking boots.
2-3 pairs of warm socks and 2-3 pairs of normal socks.
Sandals
Trekking map.
Warm hand gloves.
T-shirts (full or half sleeves).
Down jackets.
Fleece jackets.
Good quality and comfortable sleeping bags.
Refillable water bottles including a purifier.
A power bank and a day pack because as you ascend higher, there are no proper electricity and Internet facilities.
Headlight with spare bulb batteries
Quick-dry medium size towel.
Toothbrush and paste.
Basic first aid kit including your personal medicines.
Multi-purpose soap and anti-bacterial handwash.
Wet wipes and tissue.
Deodorants
Nail clippers.
Face and body moisturizer.
Note: Passport, money (as there are fewer ATM machines in the region) and essential personal items should be with you all the time.
Conclusion
Trekking Annapurna Base Camp is a perfect outdoor activity that you can do while visiting Nepal. Whereas, the best time for trekking Annapurna Base Camp is in September.
During the month of September, you can observe the natural and wildlife beauty at its fullest. The skies are clear with no clouds blocking the amazing views of the Annapurna Himalayan ranges. The temperature and weather are mild and stable. The trails are less crowded with a wide variety of accommodation facilities. Feel free to contact us for more details.
Please contact us for further travel-related information.
Similar articles you may like: