Have you ever done Everest Base Camp Trek in March? If not then you are missing out on one of the most beautiful and adventurous times of the year. March is the first month of the Spring season.
Spring is the season of a new beginning in the Himalayas. It brings greenery and buds of colorful flowers along with it. This is the season when nature outshines throughout the valley with its uttermost beauty.
Everest Base Camp trek is one of the most popular treks in Nepal. You will be reaching the base of Mount Everest in this trek. Mount Everest is the highest peak in the world.
Many trekkers chose to visit the base as an alternative to climbing Mount Everest. This is one hell of an enthralling journey in the Himalayas. Walking through rugged paths, thrilling flights, several ups and downs, and many more.
Usually, Everest Base Camp Trek in March is recommended for beginners. As the skies are clear, the sun is out and walks are comfortable during this time. You get to see marvelous vistas of Mount Everest, Mt. Lhotse, Mt. Nuptse, and others.
You will also be walking through beautiful forest paths in this trek. If you are lucky you might spot some of the rare animals of this region. Kala Patthar(5643m) is the highest point of this trek.
This is a viewpoint that gives the beautiful view of sunrise and various peaks. As the skies are clear in March, the unobstructed view looks breathtaking. You won't be bored throughout the way.
The majority of people living in this area belong to the Sherpa community. You get the opportunity to learn and experience the culture and tradition of the Sherpa people.
To know more about the Everest Base Camp Trek in March read further below:
Highlights of Everest Base Camp Trek in March
Clear and unobstructed view
Outstanding view of snowy peaks and landscapes
Various peaks like Mt. Ama Dablam, Mt. Lhotse, Mt. Nuptse, Mt. Everest, etc
Trek to the foot of Mount Everest
Beautiful view of sunrise and sunset
Reach Kala Patthar
Spot various rare animals
The warm hospitality of the locals
Culture and tradition of the Sherpa people influenced by Tibetans
Everest Base Camp Trek Itinerary
Day: Places
1: Arrival in Kathmandu airport
2: Fly from Kathmandu to Lukla (2860 m) 25 to 30 min then trek to Phakding (2600 m) – 4 to 5 hours
3: Phakding to Namche Bazaar (3450 m) – 6 to 7 hours
4: Acclimatization in Namche
5: Namche Bazaar to Tengboche (3865 m) – 5 to 6 hours
6: Tengboche to Dingboche (4410 m) – 5 to 6 hours
7: Acclimatize in Dingboche
8: Dingboche to Lobuche (4940 m) – 6 to 7 hours
9: Lobuche to Everest Base Camp (5364 m) 2 to 3 hours via Gorakshep (5140 m) – 4 hours
10: Gorak Shep to Kala Patthar (5545 m) 2 hours then trek to Pheriche (4243 m) – 6 to 7 hours
11: Pheriche to Namche Bazaar (3450 m) – 7 to 8 hours
12: Namche Bazaar to Lukla (2860 m) – 6 to 7 hours
13: Flight back to Kathmandu (1400 m)
14: Sightseeing around Kathmandu Valley
15: Departure
Everest Base Camp Trek Route
After arriving in Kathmandu, your Everest Base Camp Trek journey begins the next day. You begin this trip by flying towards Lukla from Kathmandu and then trekking to Phakding from there.
Then you head towards Namche Bazaar from there. This is a beautiful sherpa town which has cafes and restaurants. Your first acclimatization is held here. So, you can explore the town and visit the monasteries and museums located near this place.
You then head towards Tengboche from there crossing several suspension bridges and forests. The next day you will be trekking towards Dingboche viewing beautiful scenarios of various peaks and landscapes.
The second acclimatization is held in this beautiful village. During your stay, you will hike to Nakartsang Gompa to view Mt. Everest, Mt. Makalu, Mt. Lhotse, etc. you can also do a small side trip to Chhukhung.
From there, now you move ahead to Lobuche viewing panoramic scenarios of mesmerizing peaks. Staying the night in Lobuche, the important day is finally here.
You will trek to Gorakshep then head towards Everest Base Camp. After exploring and spending time there, you head back to Gorak Shep. Waking up early, you hike to Kala Patthar to view the beautiful sunrise. After viewing the peaks and sunrise you then descend to Pheriche.
From Pheriche, you head down to Namche Bazaar then Lukla. Arriving Lukla, you stay your last night in the Everest region there. The next day, you catch an early flight back to Kathmandu.
Reaching Kathmandu, you go sightseeing around the valley. Spending some awesome time in Nepal, you return to your country with great memories of this trek.
Why Trek to Everest Base Camp in March?
You might wonder why to do Everest Base Camp Trek in March. Well, this month offers some of the mesmerizing views of this region. You get to see a different side of nature during March.
Crystal Clear Sky
One of the major reasons to visit Everest Base Camp in March is due to the crystal clear sky. During this month, the wonderful vistas of Peaks and landscapes are sharp and clear.
The uncloudy visibility condition makes the trek more exciting and adventurous. The clear and unobstructed picturesque view of the Himalayas is the highlight of this trek.
Winter has just finished so the peaks are covered with dazzling snow which is quite a sight. As the sunray shines over the mountains it gives a more splendid look.
Route Bustling with Trekkers
This month is one of the peak seasons for trekking in the Everest region. The routes are bustling with trekkers from around the globe. Trekkers start to visit this region in March.
The trails filled with the blooming flowers of Rhododendron will add colors to the trek. The packed routes give you the opportunity to experience the fun of trekking in groups.
The crowds of people will keep you company throughout the way. So, traveling alone won't be scary during this month.
No chances of snowfall or rainfall
March is a pre-monsoon period so there are fewer chances of rainfall in these routes. Also, winter has just finished so there are no chances of snowfall as well. The trails are dry adding beauty during this month.
Due to clear weather conditions, you don't have to worry as there will be no flight cancellation or route blockages. The unobstructed view of the valleys, mountains, and landscapes is a plus point of March.
Visit Sagarmatha National Park
To complete this trek, you will be visiting the Sagarmatha National Park. So, there are high chances of seeing some of the rare animals of this region. This national park is home to various endangered wildlife and unique vegetation.
Some animals seen in these trails are Red panda, Snow leopards, Foxes, Musk deer, Himalayan bear, and many more. After a long sleep in winter, the animals become active in March.
How is the Weather Condition of Everest Base Camp Trek in March?
March is a phase when the season transitions from winter to spring. This month is the first of the spring season. The weather conditions are very favorable in these routes during March.
However, the EBC Trek weather can be quite chilly during the earlier week as winter has just finished. But by the time it reaches mid-March, the weather will be stable and warm.
The mornings and nights are chilly but the days are warm in the higher region. As for lower regions, the days are sweaty and hot while mornings and nights are warm.
The skies are clear with an unobstructed view of various peaks and valleys. As there are no chances of rainfall during this season. Also, the ample sunlight makes the walks comfortable for trekking.
The trails covered in colorful flowers of Rhododendron make the walk enthralling. Viewing beautiful scenarios is one of the advantages of this trek. Overall it is suitable to visit Everest Base Camp Trek in March due to less precipitation.
What is the Temperature around Everest Region in March?
Temperature is never the same when trekking in the Himalayas. It fluctuates between day to day or hours to hours. The temperature can be high in the morning and can drop by night.
The temperature during the earlier week can drop to zero degrees in higher altitudes. But by mid-March, it can range up to the moderate temperature in both higher and lower regions.
As you climb high in elevation the temperature begins to drop little by little. The temperature during mornings and nights are lower than in the afternoons. Normally, the temperature ranges from -2 to 8 degrees.
Each destination shows a different temperature while trekking in this region. For eg, the temperature in Namche ranges from -2.6 to 9.6 degrees while in Dingboche it ranges from -1 to 8 degrees.
Food and Accommodation during March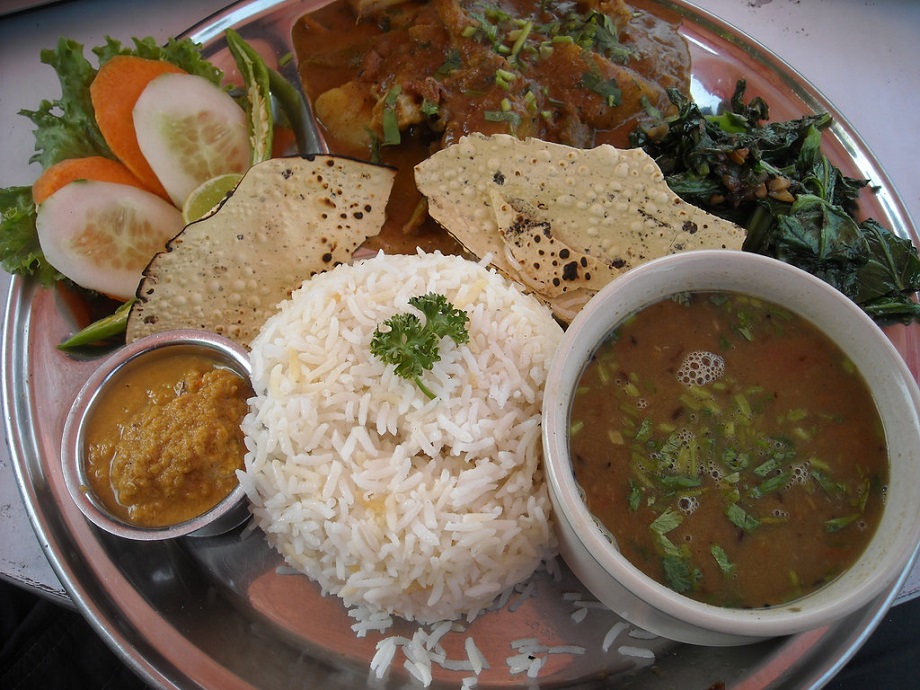 The routes of Everest Base Camp Trek are full of various tea-houses and lodges. You can find any type of accommodation on this trek. And rooms ranging from high to low prices.
You will be getting basic facilities on food and accommodation in this Everest Base Camp Trek in March. Most of the rooms have two separate beds, a warm blanket, and a shared toilet.
The facility of hot water and Wifi are available in the lower region. As you climb high in elevation these facilities begin to scarce. Also, the food in this trek is mostly the local authentic Nepali cuisine.
The cuisine consists of Dal, Bhat, curry, achar, saag, and many more side dishes. Also, they have meat options for non-vegetarians. You can also try out dhindo a staple meal in Nepal. You will have this dish mostly during lunch and dinner.
For breakfast, the tea-houses usually serve bread, toast, butter, and eggs. And for drinks, you have the option of coffee, milk tea, butter tea, etc. You will hardly find any western food on these routes like pizza, burger, pasta, and others.
Similar articles you may like:
Reasons Making Everest Base Camp Trek Difficult in March
March might be one of the peak seasons for trekking. But still, you will be facing various difficulties in this trek. So, we have mentioned a few of the reasons below:
No Privacy
Being the peak season, the route will be crowded throughout the month. So, there is no chance of having any privacy or alone time. With every twist and turn, you will meet fellow companions on the trails.
So, If you love traveling in silence while enjoying your time in nature. Then Everest Base Camp Trek in March will be a bit disappointing for you. As you will have to wait for your turn to get a clear view without trekkers being an obstruction.
Also, it can be irritating for some with all the noises created by other groups of trekkers.
Altitude Sickness
Altitude sickness will always be on the list of trekkers as a no. 1 difficulty. It is common to suffer from altitude sickness when traveling in high elevations. The air is thin there due to which oxygen level is low and altitude sickness occurs.
Some common symptoms of Altitude Sickness are headache, vomiting, nausea, difficulty in breathing, etc. If the sickness worsens then you might find sleeping difficulty, walking difficulty, and many more.
If you notice any of the above-mentioned symptoms then immediately inform your guide. They will give you further instructions on whether to rest or trek down to lower altitudes.
Distance and Duration
Normally, the Everest Base Camp Trek takes about 11 to 15 days off the schedule. But the length can be changed according to your preference. It is recommended to choose a longer Everest Base Camp Trek itinerary for beginners.
A longer itinerary has shorter walking hours and visa versa. Usually, you will be walking for about 5 to 6 hours covering 10 to 15 km each day. So, the walks will be comfortable for new trekkers.
But if your itinerary has short days in the Everest region. Then your walking duration can reach about 7 to 9 hours each day covering 20 to 25 km distance. And there will be no Acclimatization which can make your trekking journey harsh.
Crowded Lodges and Tea houses
Trekkers from all around the world will be visiting the Everest region during this month. So, the crowded lodge and tea houses will be one of the major difficulties of this trek.
March is a peak season for trekking so finding rooms without a booking will be difficult. Due to packed routes, almost each and every lodge will be full during this time.
You might even have to share rooms with your companions or other travelers. Some even sleep in the lobby or kitchen floor due to the unavailability of rooms. Also, the price of the rooms will be quite expensive during these times.
Tips for Everest Base Camp Trek in March
Facing difficulties is unavoidable when trekking in high altitudes. But you should not panic as there are various tips to make your trek easier in the Himalayas. And we have mentioned a few of the tips for Everest base camp trek in March below:
Walk Slowly
Walking slowly is very necessary when trekking in the Himalayas. People usually think walking fast will make them reach their destination quicker. But it is a wrong assumption as no matter how much time you take your destination won't change.
So, take your time and enjoy the moments. View the stunning scenarios of marvelous peaks and landscapes. Enjoy your walk through the dense but colorful forests.
Learn about the culture, tradition, and lifestyle of the Himalayan people. Enjoy this trek and most of all make this trek a memorable one for you. Return home with beautiful stories to share.
Stay Hydrated
One of the most important tips for Everest Base Camp Trek in March is to stay hydrated. People usually forget to drink water when going on a trek due to which they dehydrate. So, always carry a personal water bottle along with you.
Carrying a bottle will also be helpful as you can refill them and it saves money. The price of mineral bottles is quite expensive in higher regions. So, you can refill the bottles in the lodge you will be staying in. However, extra charges may be added for warm water.
Always fill your bottle before beginning your trek. As sometimes you might not find shops between some destinations for a long duration.
Advance Booking
As you are traveling in the peak season, booking rooms in advance is very necessary. If you don't book a room in advance then you might have to tent outside or sleep on floors.
Usually, most trekkers don't do advance booking with the hope to bargain for rooms. And that is a huge mistake as during peak times the rooms will be already packed for the whole season.
But if you are traveling with agencies then you don't have to worry about it. As they will have already managed the rooms for you in every destination.
Hire a Guide or Porter
If this is your first time trekking in the routes of the Himalayas, then hiring a guide and porter will make your trek easier. Beginners find it hard to walk for hours while carrying heavy backpacks, and this is when porters come in hand.
And hiring a guide will help you from getting lost in the trails. As there are many routes to reach Everest Base Camp. They can also help you find shortcuts because they are professionals in their job. They have been walking these trails for many years, so they now know the paths like a map.
Physical Training
Physical training is a must before trekking in the routes of Everest Base Camp. The trials are graded as moderate level climbs suitable for any level trekkers. However, the routes are rugged and off-beaten with many ups and downs.
So, you will be needing huge stamina to complete this trek. And this is where physical training will come in handy. Physical training can be done on your own without hiring trainers. These trainings are normal exercises that are done in your daily life.
Some of these exercises are running, cycling, swimming, short hikes, long walks, meditation, and many more. This exercise helps to keep your body and mind mentally and physically fit. You can begin these exercises about one month before your trek.
You may also like:
Conclusion
Visiting the Everest Base camp trek in March will leave you with many exciting memories. This trek is full of the wonderful vista of peaks and landscapes. You get to attend some of the major festivals of Nepal as well. You won't be disappointed in any way during this month. So, be prepared for exploring the beautiful Everest region.