Three Passes Trek is generally considered one of the most challenging trekking routes in the Everest region. This incredible trek in the remote Everest region passes through the three significant mountain passes, including Cho la, Renjo La, and Kongma La. The spectacular views of snow-capped mountains, pristine lakes, deep mountain valleys, and vast meadows are highlights of this trek.
Trekkers should consider allocating the proper budget as the most significant thing before any high-altitude trekking adventure. The Three Passes Trek cost is essential to estimate, including its various factors. These multiple factors include meals, accommodation, transportation, and others. You should consider visa, international transportation, tipping costs, travel insurance costs, etc. as well.
You should also estimate and manage your expenses on your own. The internet, charging, hot water, and other costs seem pretty minimal, but they add up in the long run. Read on for the Everest Three High Passes Trek Cost breakdown and additional related information in detail.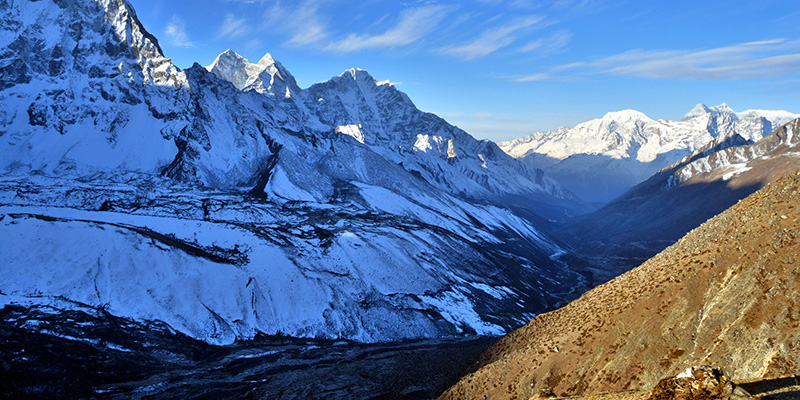 Three Passes Trek Cost Breakdown
Guide and Porter Cost
The Everest Three Passes trek is a challenging trek that traverses through rugged and remote regions. Therefore, hiring a professional guide and a porter is essential for this trek. The steep and difficult trail is not easy to trek with your luggage in such high-altitude conditions.
A local professional guide will provide you with the required information about this Everest three passes trek. There are various local insights that you will get from these professional guides. And you will get the best idea of what taboos are along the trail. Therefore, you can learn what you should not speak and do to avoid offending the locals.
On the other hand, a porter carries all your luggage and helps you take the burden off your back. There are porter guides in the region that provide the facilities of both. The Everest region guide cost is around USD 20 to 30 per day, whereas the porter costs range from USD 15 to 20 per day.
The guide and porter cost must get paid even if you cannot complete the trek through various circumstances. But if your guide cannot complete the tour, you only have to pay for the completed journey.
Accommodation cost
The Everest Three High Passes Trek cost also depends upon accommodation along trails. These accommodations are mainly in teahouses and lodges along the route. Moreover, the tea houses provide basic stay facilities, including twin beds, mattresses, pillows, blankets, etc. The lower region trails and cities have better facilities, including luxury amenities as well.
The higher trails have fewer of these luxury amenities and facilities. Most packages of trekking in the region include accommodation costs. Moreover, the one-night stay at these teahouses and lodges cost around USD 3 to 5 per person. The twin beds in these rooms generally have a shared bathroom.
The meals in the dining area are generally served in the common hall. The warm rooms typically also have sleeping blankets and heaters at an added cost. Trekkers can also bring their sleeping bags as extra blankets may not be available at all tea houses, especially in peak seasons.
Meal and Drinks Cost
The Everest Three Passes Trek cost also depends upon your meal and drink cost. The nutritious meal in these teahouses generally consists of "Dal Bhat." It includes rice, pulses, vegetables, lentils, pickles, and costs around USD 5 to 6 per plate.
The drinks are hot beverages, including tea, coffee, garlic soup, and others. The price of this meal and drink gradually increases as you move up along the trail. The food and meals price is higher in the high altitude trail due to transportation costs. Donkeys, Yaks, and porters carry the food and ingredients to higher elevations.
Your total cost of food ranges around USD 15 to 20 for the day. There are various choices of food items in lower regions that have varied prices. The bottled water costs are significantly higher in the high-altitude areas. Therefore, you can carry purifying tablets and a water bottle to save costs.
Travel Insurance Cost
Travel insurance is another essential factor when it comes to high-altitude trekking adventures. There are high chances of risks and medical injuries during this travel adventure. Some trails move along rugged and remote terrains above 5000 meters during the Everest Three Passes Trek. Therefore, you should get travel insurance packages that provide coverage to 4000m and above.
There are various factors like helicopter evacuation that these travel insurance covers. This travel insurance generally starts at USD 120 per person. The duration and the company's policies also determine the total cost of these travel insurance in high-altitude conditions.
Transportation Cost
The transportation from Kathmandu to the Everest region is generally through a scenic flight from Lukla. The mountain flight provides you with magical views of snow-capped mountains, including Mt. Everest and the other Himalayan mountains.
The 30 to 45 minutes flight cost is around USD 150 one way. The cost is higher in peak season and lesser in the off-seasons. The jeep drive from Jiri is an alternative to flight, but it is pretty uncomfortable due to long and taxing roads. It costs around USD 10-12 to travel on a local bus reserved or jeep ride. Hence, the Kathmandu to Lukla is a significant part of your Everest three high passes trek cost.
Visa Cost
The visa cost is another factor that must get included while allocation budget for these Everest three passes treks. There are visa arrival services available at the Tribhuvan International Airport. You can get a visa online before arriving in Nepal as well.
The Nepal government-issued visas range from $15, $40, and $100 for 15, 30, and 90 days. You can get more information from the Department of Immigration for detailed information.
Permit Cost
The TIMS (Trekker'sTrekker's Information Management System) permit is not required for treks in the Everest region. The Pasang Lhamu Sherpa rural municipality area permit costs USD 20 per person. Moreover, the Sagarmatha National Park entry permit is USD 30 per person. You can get these permits at Khumbu or Nepal tourism board office in Kathmandu.
Training cost
Nepal is an ideal destination for trekking. This exciting trek requires intense physical fitness and stamina to complete. You will also need mental preparation to complete this trek without hassle in rugged terrains. Hence, a proper training regime at least two months before the hike is essential. Therefore, you should allocate some budget for your training guides and diet as well.
Trekking Gear and Equipment cost
Trekking gear and equipment are an essential part of this Everest three passes trek. Trekking gears like clothing, trekking boots, backpack, and others are crucial aspects of high-altitude trekking adventure.
You can either buy this equipment or instead rent it if you want to save money. Various shops around Thamel provide these trekking gears for rent at the cost of around USD 1 to 10 per day.
Miscellaneous Costs
These miscellaneous costs are those extra expenses that you might need to consider while allocating the budget. Some of the various miscellaneous expenditures during this three passes trek are as follows:
Connectivity cost
Some teahouses and lodges provide wifi facilities at the cost of around USD 2 per hour. A local sim card and mobile data package will depend upon the data you use. But generally, it costs around USD 1 to 2 to get a local SIM card and further added costs for data connection.
You can get a SIM card from NTC or Ncell. You can also get the 4G internet from Ncell. In some of the lower region tea houses, Everest Link wifi will cost you around US $0.5 – US $2 for an hour of use. However, these facilities reduce gradually as you move up along the trail.
Tipping Cost
Tipping is a custom in the high-altitude treks in Nepal. The professional trekking guides and porters expect you to tip for their services. The hotels and restaurants staff members expect a certain amount of tip from you as well.
Tipping will also provide extra income for them and boost the local economy. Hence, tipping is a general custom, and you can tip as much as you want. But generally, it is standard to tip around 10% of total costs after completing the trip.
Personal Cost
You can also separate some budget as you might want to go on a souvenir shopping spree for your friends and family. You can also go to treat yourself in various luxury restaurants. Hence, these costs come under personal expenses that you should separate before going on a trekking adventure.
Water Facility Cost
The water in a small flask (boiled) will cost you around USD 1 to 3. The mineral water cost can range from USD 2 to 3 in higher elevations and USD 1 in lower regions.
A budget traveler can save costs by taking water purification tablets and reusable water bottles. Some tea houses also offer hot water services at around USD 2 to 3.
Hot Showers
Hot showers are a luxury in high-altitude regions as there are extreme cold conditions. The heating of water is scarce in these high-altitude conditions due to a lack of fuel and electricity. It costs anywhere around US $1 – $3 to take hot showers in the region. You can also use wet wipes to save costs along the trail.
Charging Cost
Charging these electronic gadgets costs around USD 2 to 5 per hour. These costs are only required in remote areas as electricity is scarce in this region. Electronic charging is essential as you might need your electronic devices to contact your family or take memorable pictures.
Total Overall Cost
Overall, Three Passes Trek cost can range anywhere between USD 1800 to 2000 per person. This cost is excluding your international flight cost and depends upon the duration of the itinerary.
Solo Trekking Vs. Guided Trekking
Solo trekking is entirely possible but not a recommended option in this region. Solo trekking is relatively cheaper as it will save you money and provide you with a peaceful adventure on natural trails.
Backpackers or budget travelers generally prefer to travel solo and save costs. However, a professional trekking guide will provide you with various factors like safety and navigation. You can hire a porter as well or a porter-guide or travel in a group.
A guided tour is safe and comfortable. They will get help in getting permits, manage logistics (accommodation and food) and help you navigate along itinerary and routes. Also, trekking in a group will make you feel safe, and you don't have to worry about your stuff.
Factors Affecting Three Passes Trek Cost
Everest Three Passes Trek is an incredible trekking adventure in the Everest region. Some of the factors that affect Everest Three Passes Trek are as follows:
Trekking Duration
The duration of your Three Passes Trek affects its cost as well. You can customize your itinerary and manage your schedule and requirements. The accommodations, meal, guide, porter costs are also dependent on this trekking duration. The trekking costs increase as you move high along the trail. Hence, you need an ideal trekking duration for your Everest Three Passes Trek.
Trek Itinerary
The trek itinerary provides you with an estimate of the total cost of this trekking adventure. You can take the short and cost-effective route or a relaxed longer route. You will have less time for exploration in a quick tour, but it will save you costs and reduce the duration.
The relaxed longer route will help you acclimatize better but will cost you extra. Hence, you can customize your trek according to your schedule and requirement.
Transportation Choice
The Everest Three High Passes Trek cost also depends upon the means of transportation used to arrive at the starting point of this trek. The scenic flight from Kathmandu to Lukla is a more popular option among trekkers. This short duration flight takes around 35 minutes to arrive at Lukla while observing majestic views of snow-capped mountains. You can take a local bus to arrive at Jiri and then trek back to Lukla.
Time/season
The time/season of your trek is another factor that is important to the overall cost of the tour. Budget travelers can choose off-season for expeditions as there are various discounts available.
Autumn and Spring are generally considered peak seasons for trekking in the region. Hence, the cost is higher in general. The peak season provides stable weather conditions for a trekking adventure. You can select the best time according to your schedule and requirements.
Essential Tips To Reduce Three Passes Trek Cost
If you want to reduce Everest Three High Passes Trek Cost and travel under the budget, these tips will be essential for you.
Travel in a group as it is cheaper and cost-effective, with discounts on accommodations and meals.
Rent trekking gear and equipment at around US $1 – $10 per item from various shops around Thamel.
Bargaining will help you reduce expenses along trails. So you should learn this skill to save costs while shopping in and around Nepal.
Pack only important stuff that will reduce your luggage weight and porter cost.
Hire a porter guide who will provide you with services of both
Eating at the same place where you stay the night will lead you to several discounts. Some tea houses also provide free accommodation in the condition that you have meals in the same teahouse.
Find a local trekking agency as they will provide you with local insights and perks
Carry a solar charger and power banks
Carry tea bags and coffee powders to minimize the expenses on hot beverage drinks.
Pack sufficiently with all things essential for trek
Carry snacks like and protein bars, chocolate bars, etc
Final Say
The significant part of any trekking adventure is the proper allocation of the budget. You can remain hassle-free and enjoy the trek if you plan your tour and then allocate a budget for it. The Everest three passes trek is an incredible adventure passing through the beautiful landscape. We hope you learned about Everest Three Passes Trek cost and other related information in detail. Contact us for further information about this trip and book your journey now!