Annapurna base camp trek is one of the most recognized trekking destinations of Nepal. Every year many trekkers make the climb to this base camp. If you are thinking of making a climb in this region then don't forget to carry Annapurna Base Camp Trek Map.
In this modern era, people mostly rely on technological gadgets. Handheld GPS has been taking over the trekking market. Through these gadgets, you can download and plan the paths in advance to decide the quickest and easiest routes.
But even the electronic devices can fail sometimes as you may drop it or no satellites overhead, etc. So you are recommended to carry paper maps and compass as a backup.
Annapurna is the 10th highest mountain in the world situated in the Gandaki zone. Its base camp has been a famous trekking point for many trekkers.
The trek through Annapurna Base camp gives you an extraordinary view of high mountains, multiple landscapes, traditional villages, diversity of flora and fauna, etc. It is a walk to the Lap of Mount Annapurna.
Along the way, you will see many mountains such as Annapurna I, Annapurna II, Annapurna III, Annapurna IV, and Annapurna South, Dhaulagiri, Nilgiri, Lamjung Himal, etc.
This trek gives you an insight into the culture and lifestyle of the people living in the upper hills. You also get the chance to explore the magnificent nature.
The trails are not very difficult even noob trekkers can trek in this region. There are many trekking routes for you to decide so it can be confusing.
Thus Base camp adventure has made Annapurna Base camp Trek map to help you decide the less time-consuming routes without missing out any adventure.
With the help of this map, you can know about the distance, altitude, places, etc which is an important piece of information. Following this map, many people have finished their trek easily.
You can get the proper description of the Annapurna Base camp trek map which is given down below.
Summary
The first day goes by in a blink of an eye as you reach Kathmandu and head towards your hotel where you will spend the night and rest for the next day.
The second day of your journey begins as you leave the capital city. You will be traveling a 7 hours drive on the bus from Kathmandu to Pokhara. Pokhara is a beautiful city which is also the gateway for many trekking regions.
Upon reaching Pokhara you will stay the night there then start your drive to Nayapul next morning. From Nayapul, you will trek to Ulleri viewing and walking through rivers, villages, etc.
The next day you walk through a forest to reach a small settlement of Magar/Gurung. Then from here, you will climb staircases made of stones all the way to Ghorepani. Arriving you can view the beautiful scenes of various mountains.
You will wake up early today as you will be hiking to Poon hill also called Photographer's paradise. The view of sunrise from the hill is marvelous along with the beautiful sight of Mt. Annapurna and Mt. Dhaulagiri.
After the scenic views, you ascend towards Tadapani which is your stop for the day. From there you head to Chhomrong crossing many bridges and resting for a while in Jhinu Danda before entering the village.
On your seventh day, you head to Himalaya walking through rhododendron forests, crossing Chhomrong Khola and traveling uphill and downhill till you reach there.
To reach Annapurna Base Camp you trek pass many traditional villages viewing their unique lifestyle. You also pass-through forests filled with different species of flora and fauna.
The walk to base camp offers many mesmerizing views of natural diversity, landscapes, mountains, etc. Many variations of birds, waterfalls, chattering of monkeys make your trek more interesting.
This day you trek down to Bamboo through Machhapuchhre base camp viewing the snowy peaks along the way. You then climb down past Deurali, Himalaya and reach Bamboo.
Today you walk up and down hills before you reach Jhinu Danda where you stay for the night. After your night there, you trek back to Nayapul and drive back to Pokhara.
Staying the night in Pokhara you drive back to Kathmandu and fly back to your countries the next day.
Keep your Annapurna Base Camp Trek Map somewhere handy so that you can have a less hassled trip!

Highlights of the Trek
Reach Annapurna Base camp
Visit Natural hot spring
View the sunrise
Exotic flora and fauna
Visit traditional villages located in the hills
Similar articles you may like:
Annapurna Base Camp Trek details
Drive from Kathmandu – Pokhara (via tourist bus)
Drive duration: 6-7 hours
Distance: 201 km
Maximum altitude: 820 m
When you arrive at Kathmandu airport the respective representatives will be waiting for you at the exit point. From there, they will pick you up and drop you off at your hotel.
As the flight might be tiring you will rest for the day as you have to spend the
You leave for Pokhara after having your breakfast. You will be traveling on a tourist bus through Prithvi Highway. The drive takes you through the charming landscape alongside the Trishuli river viewing many villages and small towns.
After you reach Pokhara you can freshen up and walk out to spend the evening by the lakeside. You spend your night in Pokhara.
Drive to Nayapul and Trek to Ulleri
Drive duration (to Nayapul): 2 hours
Trek duration ( to Ulleri): 4-5 hours
Drive distance ( to Nayapul): 45 km
Trek distance ( to Ulleri): 9.65 km
Maximum altitude (Nayapul): 1010 m
Maximum altitude (Ulleri): 1920 m
Today is the beginning of your Journey to reach ABC. You drive to Nayapul from where your trek will start.
After reaching Nayapul you will begin your walk by crossing the suspension bridge over the Modi River. Crossing the bridge and walking further ahead you reach Birethanti.
From there you will be climbing stone steps as you pass many villages such as Mathathanti, Hille, Tikhedhunga, etc.
Reaching Ulleri you get to glance at the mountains Annapurna south and Himchuli. You will be staying overnight at one of the guesthouses.
Ulleri – Ghorepani
Trek Duration: 4 to 5 hours
Trek Distance: 29.7km
Maximum altitude: 2860 m
Today the trails are easy as you walk through dense forests filled with rhododendron. Walking on these trails for some time you will cross the Banthanti and Nangethanti villages.
You then ascend uphill in stairs made of stones and reach Ghorepani. The panorama view of Mount Annapurna will amaze you as you enter the area.
You will stay there for the night.
Hike to Poon hill then to Tadapani
Trek duration (poon hill): 1 hour
Trek duration (Tadapani): 6-7 hour
Distance (poon hill): 1 km
Trek distance (Tadapani): 9.7 km
Maximum altitude (poon hill): 3210m
Maximum altitude (Tadapani) : 2610m
Today you will wake up early in the morning as you are going on a hike to Poon hill. You will climb up a steep hill through trials of snow until you reach the top.
The view of sunrise you get from up there is very mesmerizing, you also get to view many mountains such as Dhaulagiri, Tukuche, Nilgiri, Annapurna I, Himchuli, Annapurna South, Lamjung Himal, etc.
After the fascinating view, you head back to Ghorepani grabbing your things. You descend through dense forests viewing the unique flora and fauna. The trail's difficulty is moderate so you can easily walk this path.
You reach Tadapdani and call it a night.
Trek to Chommrong
Trek duration: 5-6 hour
Distance: 9.8 km
Maximum altitude: 2170m
Today you start your journey by walking uphill then downhill through trails of dense forest. As you walk further you will cross a suspension bridge built above the Kimrong Khola.
Ahead from there, you reach Jhinu Danda which is one of the Natural hot springs of Nepal. You will take a rest for some time and again start your walk until you reach Chommrong.
Chommrong is a beautiful village as you enter it you get the astounding view of Annapurna South, Machhapuchhre. You will stay the night here.
Trek to Himalaya
Trek duration: 6-7 hour
Distance: 8 km
Maximum altitude: 2170m
Today the difficulty of the trails is easy as you will be walking through forests of rhododendron, orchid, and ferns. As you walk out of the forest you will walk down the stairs of stones and cross the Chhomrong Khola.
Crossing the Khola you ascend uphill reaching Sinuwa then again descend through stone staircases to reach Bamboo. This day you will be climbing up and down many stone staircases.
As you arrive Bamboo you will walk across the forest trail and reach Dobhan then from there head towards Himalaya situated underneath the Hiunchuli peak.
When you reach Himalaya you will stay for the night. The amazing view of rivers you see beneath is breathtaking.
Trek to Annapurna Base Camp
Trek duration: 6-7 hour
Distance: 8.5 km
Maximum altitude: 4130m
The most awaited day of your trek is here when you visit the highest point i.e. Annapurna Base Camp.
You wake up early this morning and ascend towards Deurali traveling through stone stairs. Along the paths, the alluring view of snow-capped mountains will accompany you till you reach Machhapuchhre Base Camp situated at an altitude of 3700 m.
From there you follow the moraines of South Annapurna and reach the Annapurna South (7219 m) base camp.
As you reach the Base Camp you get to see the panorama view of snow-capped mountains such as Patal Hiunchuli, Machhapuchhre, Annapurna Massif, etc.
Today's journey might be a bit more difficult than previous days as you are gonna settle in a higher altitude. You have reached the base camp of the world's 10th highest mountain.
So you will settle in the base camp and give your body rest for the day.
Annapurna Base Camp – Bamboo
Trek duration: 6-7 hour
Distance: 12.7 km
Maximum altitude: 2345 m
Today you will be descending down to a lower altitude. As you walk down the paths following the moraine routes you reach Machhapuchhre Base camp.
From there you travel sighting the snow-capped mountains and entering through forests of rhododendron by following the routes of Modi Khola. As you walk through the forest viewing different shades of nature you descend past Deurali and Himalaya.
After walking for a few hours you reach Bamboo and stay overnight in one of the guesthouses.
Bamboo – Jhinu
Trek duration: 5-6 hour
Distance: 11.7 km
Maximum altitude: 1780 m
After a wonderful night in Bamboo, you again start your journey as you ascend through forests filled with colorful flora and fauna towards Sinuwa.
From Sinuwa you head below towards Chhomrong Khola and ascend to upper Chhomrong through stone staircases. You again descend from there through dense forest viewing the wonderful landscapes along the way and reach Jhinu Danda.
Jhinu Danda is a natural hot spring which is a famous spot for trekkers on these routes. The hot spring is about 30 m down from Jhinu Danda. You can take a dip and relax your muscles.
After the relaxing bath, you stay there and have a peaceful night.
Jhinu Danda – Nayapul then drive to Pokhara
Trek duration (Nayapul): 2- 3 hours
Drive duration (Pokhara): 2 hours
Trek distance (Nayapul): 4.3 km
Drive distance (Pokhara): 45 km
Maximum altitude ( Nayapul): 1010 m
Maximum altitude ( Pokhara): 820 m
Your trek is now about to come to an end as you will be heading back to Pokhara today.
After a relaxing time in the hot spring, you wake up early today and get ready to walk the trails for the last time.
Following the trails across Modi Khola, you descend viewing the beautiful landscape and mountains.
As you reach Nayapul you catch the vehicle from there and drive back to Pokhara.
After a tiring day, you can either rest for the day or you can roam the city. There are various options to do such as visiting lakeside, clubbing, cycling, etc.
You can also have a peaceful dinner on the lakeside viewing the Phewa Lake.
You will spend your night here.
Pokhara – Kathmandu
Trek duration: 7-8 hour
Trek distance: 201 km
Maximum altitude: 1345 m
You can now say your trek has come to an end as you will be heading back to Kathmandu today on a tourist bus.
You will wake up early in the morning and drive back viewing the hills, villages, fields, etc along the way.
As you arrive in Kathmandu you will be dropped back to your hotel. You can freshen up and visit local markets nearby.
You can also give your body rest from all the walking you have done for the past couple of days.
This is your last night in Nepal as tomorrow you will be dropped off at the airport. And you head back to your country taking the beautiful memories you made here.
Permits required for Annapurna Base Camp Trek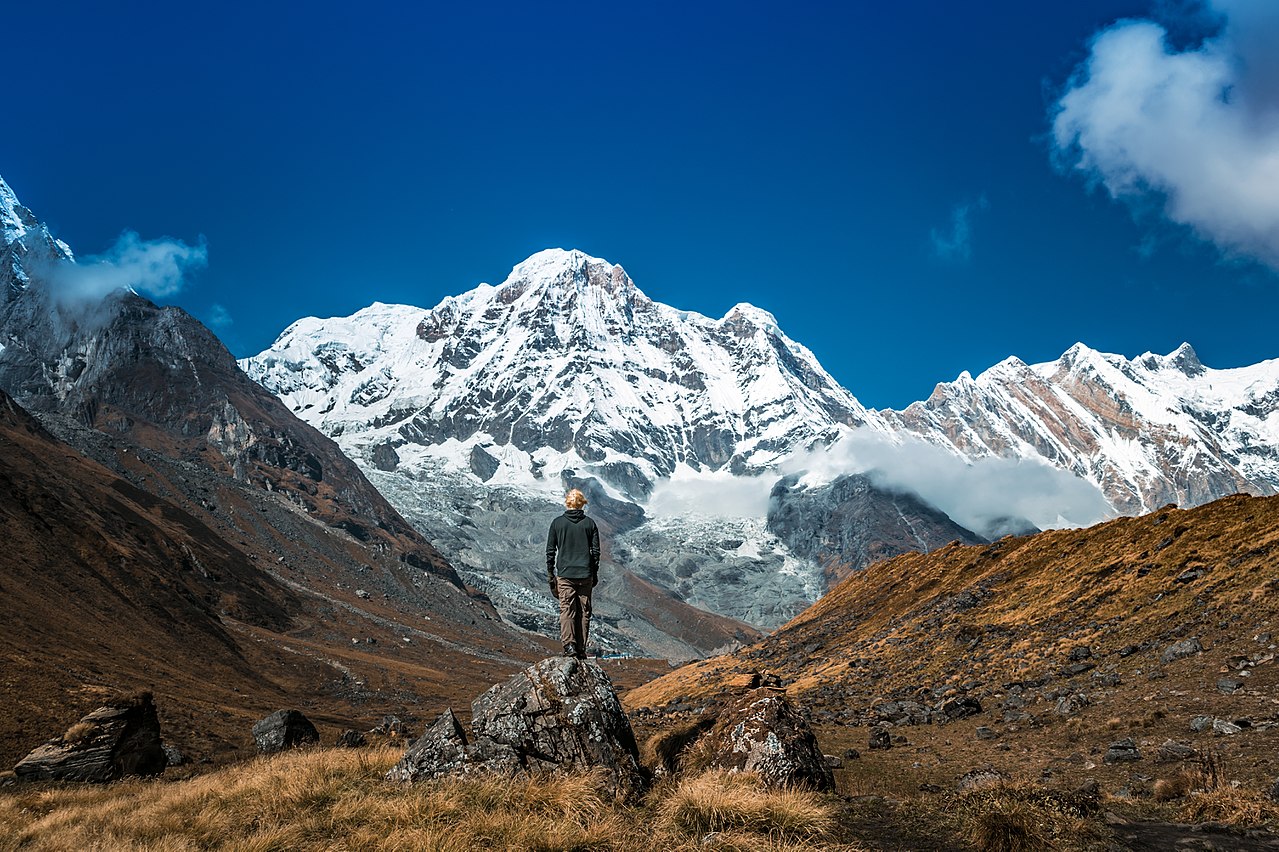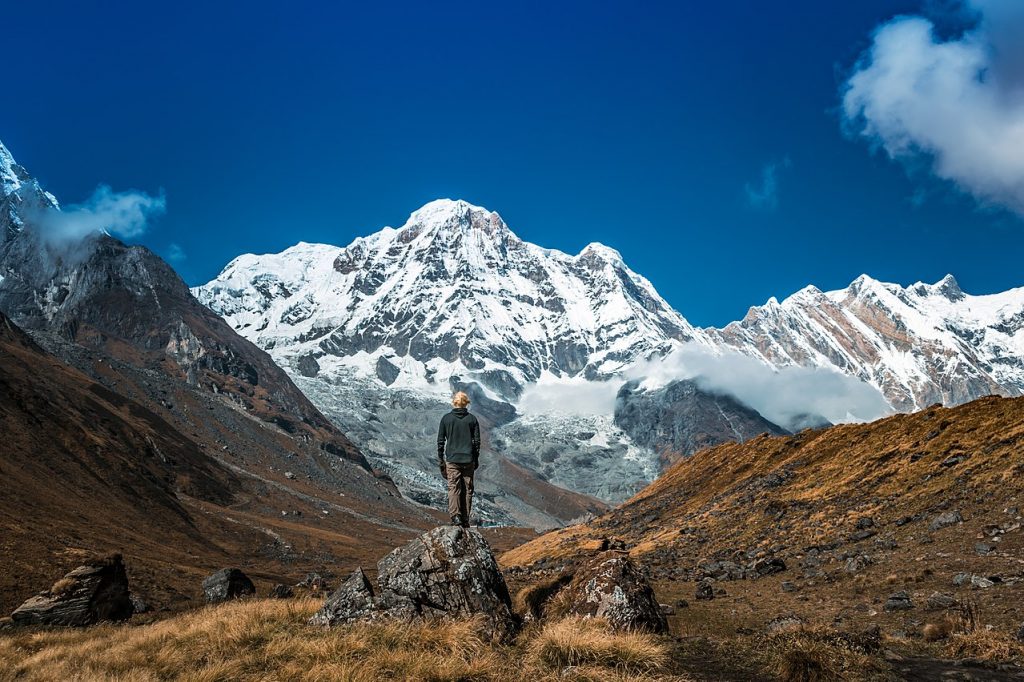 Annapurna Base Camp is a part of the Annapurna Conservation Area. Before going on a trek both solo trekkers and group trekkers have to acquire an individual ACAP entry permit. To apply for the permit you should provide two passport size photos to the representative.
For the entire trip, you have to carry the permit along and show it in check-posts per request. The permit can only be used once. It is neither refundable nor transferable.
With the permit, trekkers are allowed to enter only selective places within the conservation area.
You also need to acquire Trekker's Information Management System card to trek until the base camp. It is compulsory for both Free Individual Trekkers and Government-authorized agencies.
You will be needing a copy of the passport and two passport-sized photos to register for the Trekker's Information Management System. You can get this card from the offices of Nepal Tourism Board in Kathmandu and Pokhara and the Taan Secretariat in Maligaon and Pokhara.
The Final Say
Annapurna Base Camp is gaining more and more popularity each year. Many trekkers trek in these routes every year fulfilling a wish in their bucket list.
The trails are not very difficult which is also one of the reasons that attract trekkers. The paths enter through forests filled with rhododendron, unique Landscape, lush forests, extraordinary flora, and fauna, etc.
With the help of our Annapurna Base Camp Trek map, you can gain information that is reliable and necessary while choosing your routes. Many routes have been declared to make a climb till the base camp. With the map that Base Camp Adventure has made it will be faster and easier for you.
It is quite important that always carry Annapurna Base Camp Trek Map with you whether it be digital or traditional. So that if you get lost by any chance you can follow it to reach the destination.