Annapurna Circuit Trek is the most popular trek adventure to do in Nepal. Thousands of nature admirers every year visit Nepal for doing this particular trek. It is one of the longest treks in Nepal that revolves around unique settlements, lush forests, high hills, and snow-capped mountains. The standard itinerary of Annapurna Circuit Trek is around 15 to 20 days. This long adventure is for those who have extra days on their holidays but it does not suit everyone. There is a deal for those who have only 10 to 12 days to complete Annapurna Circuit Trek; Annapurna Circuit Trek 10 Days.
10 Days Annapurna Circuit Trek is a shorter version of the longer Annapurna Circuit Trek. It does not mean that this trek will exclude major highlights of the Annapurna Circuit Trek. Rather it tries to cover all of the important sites in a short period. The experience that is in the 10 days Annapurna Circuit Trek is more or less similar.
Within ten days, you will experience the best parts of the Annapurna region. And by completing this trek, you can easily guess what it is like to do the longer Annapurna Circuit Trek.
Shorter Annapurna Circuit Trek of 10 days runs through the hills to provide the attractive views of mountain vistas. Most of the Annapurna region mountains are easily, clearly, and closely viewable on this trek. Peaks can be Mt Annapurna and its siblings, Dhaulagiri, Ganesh Himal, Macchapuchere, and several more. The landscape views are also equally eye-catching, you will find quick changes in the landscapes in no time. Thorung La Pass(5416m) is the highest reach and the ultimate highlight of this trek. And the journey to this pass is quite exciting and adventurous.
Moreover, the short Annapurna Circuit Trek gives you a taste of a unique lifestyle and culture of Tamangs and Gurungs. They are the major habitats of the Annapurna region, living in the iconic villages. The settlements are very much explorable with nicely built stone houses. Marpha, Manang, Jomsom, Pisang are the major stops of this trek.
You will get to see the monasteries, Temples, Mani Walls, Prayer Wheels, and Gompas homed by these villages. Muktinath Temple(3710m) is the most sacred temple for both Buddhist and Hindu pilgrimages. You will get to receive blessings from this sacred temple and to see locals doing so.
Annapurna Circuit Trek in 10 days is the best package to do with us if you don't have much time for the longer one. We will make sure of your enjoyment and good trekking experience. Contact Us for booking the trip, Base Camp Adventure.
But before that, you have to learn more about the 10 Days Annapurna Circuit Trek. That is why we are here with the article about the itinerary, best-time, difficulty, and packing list of Annapurna Circuit Trek 10 Days. Read it out thoroughly to know everything about this trek.
Highlights of Annapurna Circuit Trek 10 Days
A quick way to explore the vast Annapurna region
Snow-covered views of Annapurna, Dhaulagiri, Machhapuchhre
To see the quick turn of the attractive landscapes
Enjoy the trek through green vegetation
Get wisdom from Tibetan influenced cultures and lifestyles
Ascend down the dramatic Thorung La Pass
Receive blessings from the most sacred Muktinath Temple
Walk by the most iconic villages of Nepal
Weather and Temperature during 10 days Annapurna Circuit Trek

During Autumn
It is Autumn in Nepal when September, October, and November are on the calendar. Autumn is one of the peak trekking seasons where you will see numbers of trekkers in Nepal. The weather during Autumn months is perfect as the trekkers want to, neither too cold nor too hot. And there are no or very few chances of rainfall during the trek if you are opting for any of the Autumn days. Skies are clear and you can just enjoy the mountain views on a clear sunny day.
The temperature of the Annapurna region throughout the Autumn ranges from 10 to 15-degree celsius in the lower region. However, the higher regions(above 4000m) are always cold and the temperature of those regions can change drastically. Thorung La Pass's temperature falls to -4 degree celsius only in the day. The night and morning hours can see some freezing temperatures.
During Spring
Spring is the season of blossoming flowers and another peak trekking time in Nepal. March, April, and May are the months of Spring where you will see clear views of Nepal's landscapes. The weather is more or less like the Autumn season, there is not so much difference between Autumn and Spring. Days are warm and pleasant to walk on the flower dotted trails of Annapurna Circuit Trek. The Annapurna region sits in the rain-shadowed region which means there are no real chances of rainfall.
Mountains are washed with snow during this season in Nepal and there is no such thing to obstruct the views. The average temperature of the lower region moves around 18 to 22 degrees. But, the higher areas are colder than the lower areas with negative degrees on the meter. Thorung La Pass is the coldest place to be in the Annapurna Circuit Trek. Days temperature is easily bearable but the night and morning time demands extra clothing to survive.
During Monsoon
June, July and August are the three rainy months in Nepal. Monsoon is considered the off-season for trekking in Nepal. This season can be perfect for peace and adventure lovers. The Nepali trails during Monsoon are almost empty thus the peace lover opts for this season. But, anyone traveling in the Monsoon months has to be ready for any kind of water caused problems.
July is the peak rainy month of all which means August and June does not see much rainfall. The temperature of the lower region is warm before the rainfall and a bit cold after the rainfall, around 15 to 25-degree celsius. Lower areas are the most rain-getting spots of Annapurna Circuit Trek. The higher areas like Jomsom, Marpha, Mustang are the rain-shadowed areas. So, the rain-occurrence in the higher regions is much less than the lower areas.
During Winter
Winter is the coldest time of year in Nepal. December, January, and February are the shades of Winter. The weather and temperature during Winter turn a bit harsher than the other times. The lower Annapurna region sees temperatures around 7 to 12 degrees during the normal day. On the other side, the higher regions are colder than ever as expected. With every increase in the altitude, you will feel the decrease in the temperature.
People take Wintertime as the off-season and challenging trekking time. The cold temperature can cause problems. But if you are good with the cold climate and can endure this time of year, Annapurna Circuit Trek in Winter is a possible trip for you. Make sure you are equipped with all of the winter gear as the Thorung La Pass receives some snow falls during winter. The early-December days are not too harsh to trek on and high areas are also not restricted. But as the winter wraps Nepal totally, the higher areas around Thorung La Pass are closed for trekking.
So, what is the best time for Annapurna Circuit Trek?
Without any doubt, the Autumn and Spring months are the best time for the Annapurna Circuit Trek. During those periods, you can enjoy nature at its best without any fear of snowfall, cold, or rainfall. The temperature is also ideal throughout these months. Therefore, if you are ready for Annapurna Circuit Trek, pick either Autumn or Spring months. You will enjoy the trip thoroughly.
Difficulty during 10 Days Annapurna Circuit Trek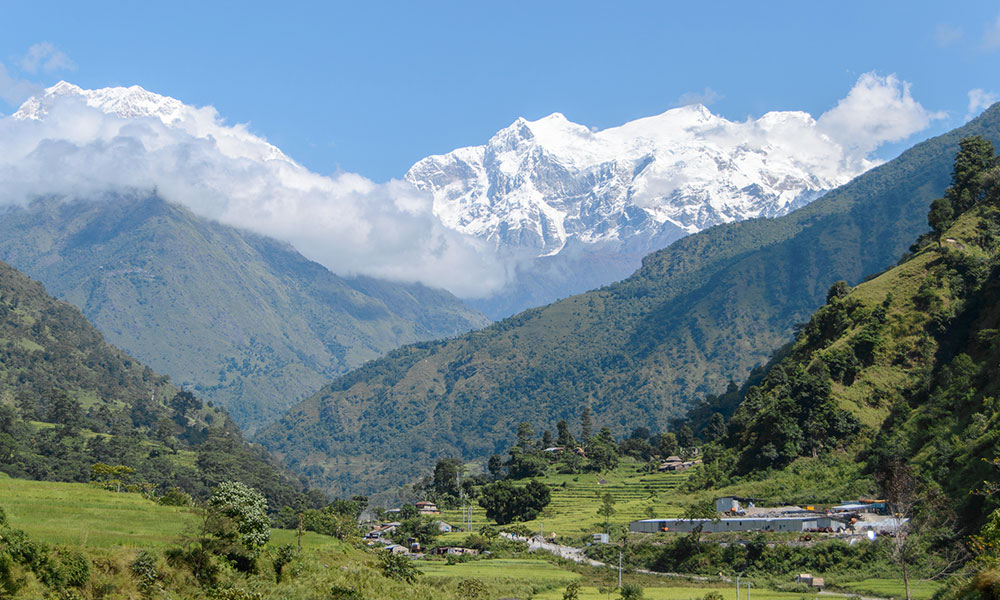 Annapurna Circuit Trek is not an easy thing to do, it is one of the longest treks in Nepal. The shorter version of Annapurna Circuit Trek i.e. 10 days is a bit less difficult as it will cover less distance than the longer version. Distance is not the only difficulty you will experience this trek, there are a few more things.
Here are the major difficulties of Annapurna Circuit Trek:
Distance
The full Annapurna Circuit Trek is a long journey. Don't get much relaxed if you are trying 10 Days Annapurna Circuit Trek. The shorter Annapurna Circuit Trek covers the total distance of anywhere between 160 to 230 KM. In the Itinerary of 10 days, you have to trek for 6 to 7 hours for covering a distance of 8 to 15 KM per day. And the trails are not over the regular land rather it's over rough and steep trails. Hence, distance can be a problem for any non-experienced trekkers.
Altitude Sickness
Altitude Sickness is always there in the Himalayas and Annapurna Circuit Trek being one of the Himalayan treks, the fear is here also. Annapurna Circuit Trek's Highest point is Thorung La Pass at an altitude of 5416m. If you don't know, altitude sickness is possible in any of the regions above than 4000m. Therefore, getting caught by altitude sickness is the possible difficulty of Annapurna Circuit Trek.
This sickness can hit anyone who is not used to high altitudes trekking. But, this does not mean you cannot do the trek if you are from the lower sea-level areas.
With proper precautions and care, you can easily avoid altitude sickness. Walk slowly without rush but with breaks, drink water regularly, and place the bottle always near the hand, don't consume any alcohol or tobacco. This way you can place yourself away from the sickness.
Low fitness level
If you have a low fitness and pain endurance level, then you can face difficulty while trekking. Annapurna Circuit Trek is a long trek that demands an average level of fitness. Low fitness level means the person cannot walk for too long on the steep trail, he/she might feel to give up. Therefore, try your best to maintain a good fitness level before the trek. There are things that you can do to improve fitness like cardio-training, cycling, running, hiking, etc. Doing these things on a regular basis certainly boosts fitness level.
Food and Accommodation
The food and accommodation is not a problem all the time but it is hard to get these services during peak season. Autumn and Spring are the two peak times when the lodges and tea houses are mostly occupied by already reached trekkers. Annapurna Circuit Trek trails are the busiest trails of Nepal. And, getting the accommodation of your choice is almost impossible without pre-bookings. So, it is always better to go with the trekking companies, they manage all the things of the treks. You don't need to panic a bit also.
You may also like:
Annapurna Circuit Trek 10 Days Itinerary

Day 01: Drive from Kathmandu To Beshisahar
Altitude Gain: 760m
Drive Duration: 6 to 7 hours
Drive Distance: 185 Km
Overnight at: Besisahar
10 Days Annapurna Circuit Trek commences with the bus drive escape from Kathmandu(1400m). The bus ride for Besisahar will start early in the morning after breakfast. Beshisahar is 185 km west from Kathmandu and the drive is scenic and exciting. After 6 to 7 hours of bus drive, you will finally reach Beshisahar. This place is also popular as the starting point of Annapurna Circuit Trek. Overnight at Besisahar.
Day 02: Drive from Besisahar to Chame
Altitude Gain: 2710m
Drive Duration: 4 to 5 hours
Drive Distance: 65 Km
Overnight at: Chame
The bus will hit the road again through beautiful Marsyangdi Valley where you can enjoy the mountain villages and amazing scenery. Today's drive is over the unpaved and rough road so be prepared for the shakes and bumps. The 65 km long bumpy ride ends after reaching Chame village. This village offers relaxing views of Annapurna II, Lamjung Himal, Manaslu, etc. Overnight will be at the lodge.
Day 03: Trek from Chame to Pisang
Altitude Gain: 3115m
Trek Duration: 5 hours
Trek Distance: 13.2 Km
Overnight at: Pisang
Chame village brings an end to your bus ride and starts the trek of Annapurna Circuit. The trek will be through a steep and narrow trail of the valley. On the way, you will view Pinguda Danda Rock(1500m), a curve-shaped rock pointed in the river. Throughout the day, you will enjoy walking on the green trails with mountains in the distance. Pisang provides amazing displays of Annapurna range peaks.
Day 04: Trek from Pisang to Manang
Altitude Gain: 3,540m
Trek Duration: 5 hours
Trek Distance: 17 Km
Overnight at: Manang
You will start to trek through Upper Pisang towards Manang. After reaching Geru, you can sight on the north face of Pisang Peak, Tilicho, Gangapurna, Annapurna II, etc. Then trail reaches in a Tibetan settlement where you will get to receive blessings from century-old Barge Monastery. This monastery is the largest monastery of the entire Manang region.
Day 05: Acclimatization day
It will be the acclimatization day at Manang dedicated to making you used to the higher altitudes. The high parts of the trek are on the way and you have to make yourself comfortable. As an acclimatization day, you will hike around higher Manang areas where you will touch the height of 4500m. The hike takes around 5 to 6 hours to complete the round trip. Also, you can explore Praken Gompa which sits north from Manang.
Day 06: Trek from Manang to Yak Kharka/Ledar
Altitude Gain: 4200m
Trek Duration: 3 to 4 hours
Trek Distance: 9.4 Km
Overnight at: Yak Kharka/Ledar
After an acclimatization day around Manang, it is time to move ahead towards Yak Kharka(Pasture). The landscape viewable today is more like a Tibetan Plateau; semi-deserted hills. Your trek starts through the older part of Manang before climbing the plain Gunsang. And finally comes the vast and serene Yak Kharka after 4 hours of peaceful trek. The mountain views will always be there if you want to look up.
Annapurna, Gangapurna, Tilicho Peak, etc are the peaks visible throughout the day.
Day 07: Trek from Yak Kharka to Thorong High Camp/ Thorung Phedi
Altitude Gain: 4,525m
Trek Duration: 4 to 5 hours
Trek Distance: 9.6 Km
Overnight at: Thorong High Camp
It will be another short trekking day with only 4 to 5 hours of stretch. You will leave Ledar/ Yak Kharka by touching the river beds of Jorsang Khola. Then crossing the bridge, you will join a trek to Phedi(4420m). You will follow a narrow trail across the landslide area. Then one more steep uphill climb brings the Thorung Phedi in front of you. You will stay at Thorong High Camp(Thorung Phedi) to acclimatize yourself one last time before climbing the much-awaited Thorung La Pass.
Day 08: Trek from Thorung Phedi to Muktinath via Thorung La Pass(5416m) and Drive to Jomsom
Altitude Gain: 2,700 m
Trek Duration: 9 hours
Trek Distance: 16 Km
Overnight at: Jomsom
This is the most important day of Annapurna Circuit Trek where you will ascend down the Thorung La Pass. It will be a long and challenging trek, therefore, you have to start very early in the morning. The trail to Thorung La Pass is steep and rough shaped but the view from the above is worthy enough to forget the pain. Thorung La Pass(5416m) is one of the highest passes in the world which provides a broad panorama of ever-beautiful peaks.
After the view, it is time to trek down for 3 to 4 hours until Muktinath. The Muktinath area is famous for its most sacred Muktinath Temple(3,760m). This temple is equally significant for both Hindu and Buddhist Pilgrimages. You will get peaceful surroundings at the end of the day at Muktinath. And, after the visit of Muktinath Temple and area, you will join the jeep ride for Jomsom(2,700m). Jomsom is an iconic village of the Mustang region where houses are nicely built with stones and woods. The apple garden of Jomsom is world-famous and worth rambling around.
Day 09: Fly from Jomsom to Pokhara
Altitude Gain: 820 m
Flight Duration: 25 minutes
Overnight at: Pokhara
After spending an awesome night at Jomsom it is time to fly to Pokhara. Pokhara flights are available from the Jomsom Airport. It takes only 25 minutes to land at Pokhara after flying from Jomsom. The air-ride will provide a bird's eye view of the entire Annapurna region. Every second of the flight time is quite scenic and enjoyable. Soon after reaching Pokhara, you will get a hotel transfer to one of the deluxe hotels in Pokhara.
Day 10: Drive from Pokhara to Kathmandu
Altitude Gain: 1400 m
Drive Duration: 6 to 7 hours
Overnight at: Kathmandu
Your 10 days Annapurna Circuit Trek ends after the drive from Pokhara to Kathmandu. The bus will retrace the same highway of incoming to reach Kathmandu. After 6 to 7 hours of scenic bus drive, you will arrive in Kathmandu.
You will get a hotel transfer to your hotel to call it the end of the Annapurna Circuit Trek 10 Days.
Packing list for 10 Days Annapurna Circuit Trek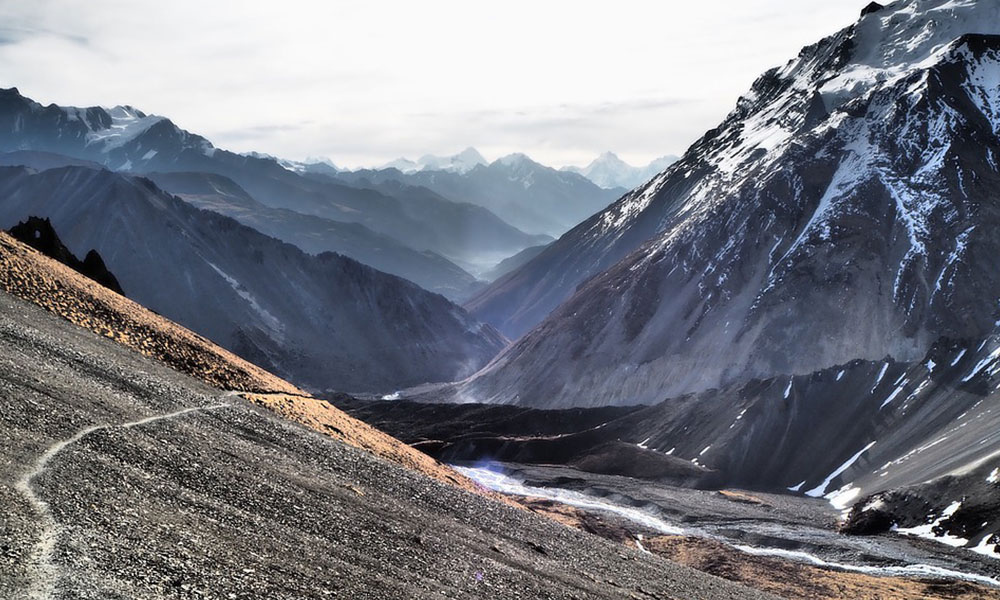 Here is the guide to what to pack for a shorter Annapurna Circuit Trek. The below-mentioned packing list is suitable for both Autumn and Spring seasons. But, if you are picking any other time, make sure you backpack all of the extra clothing and gear:
Clothing
Strong and comfortable trekking boots
Spare shoelaces
Trekking socks(pairs)
Half-sleeved hiking shirts/vests
Trekking pants
Thermals undergarments
Full-sleeved hiking shirts/vests
Insulating down jackets
Woolen cap
Trekking Gloves
Raincoats(For unexpected rainfall)
Mediocre
Diamox tablets
Feminine hygiene products
Anti-nausea tablets
Band-aids
Mosquito and insect repellents
Toiletries
Bathing Soap
Toilet Paper
Shampoo
Sunscreen
Moisturizer
Hand wash
Hand sanitizer
Accessories
Sunglasses UV protected
Sleeping bag(-10c)
Cameras
Batteries
Water Bottle
Solar Chargers
Hot water Thermos
Important Documents
Passport
Passport-sized photos
Passport Photocopies
Similar articles you may like:
Conclusion
Annapurna Circuit Trek 10 days is designed for less-travel-time trekkers. The long Annapurna Circuit Trek is certainly the best Annapurna adventure but not the only alternative. 10 days Annapurna Circuit Trek is equally exciting as the longer one.
You won't feel bad about not doing the longer Annapurna Circuit Trek but completing the short Annapurna Circuit Trek. It is more like a win/win deal to do.
If you are interested in this adventure, you can contact or ring us at any time. We will be looking forward to your future queries and a trip with us, Base Camp Adventure.